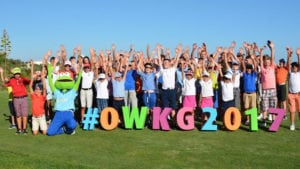 As clearly shown by the delighted young golfers (pictured), last year's Oceânico World Kids Championship (OWKG) event was another fantastic success, and Amendoeira Golf Resort has now confirmed an exciting new partnership with the Portugal Pro Golf Tour. As a result, the winner of the U18 category in the Oceânico World Kids Championship (OWKG) 2018 will have the fabulous opportunity of playing in an event of their choice on the Algarve's premier golf Tour. The 'members-only' Portugal Pro Golf Tour, which runs annually from January to April, provides competitive experience for the next generation of professionals, and is also invaluable preparation for some of Europe's more prominent Tours. Last year's participants included Walker Cup player, David Boote, and European Tour member, Max Orrin.
José Correia, President of the Portugal Pro Golf Tour has conveyed his enthusiasm for the event's latest development: "We are very proud to be able to offer the winner of OWKG a spot at one of our events – it will no doubt be an unforgettable experience but will also help them develop greatly as a golfer. We hope the exemption will provide even more incentive to win one of Europe's premier golf events."
With some of the best junior golfers across Europe already entered into this summer's field, competition will be fierce for the coveted exemption, as well as the prestigious R&A World Amateur Golf Ranking points also available for Under-18 players. With over 100 junior golfers already registered across all age groups, OWKG has partnered with Titleist, the globally renowned golf ball manufacturer, to ensure that all age-groups are competing for great prizes, including market-leading golf gear.
Amendoeira values the family aspect of junior golf and is dedicated to ensuring that both parents and the young golfers participating enjoy an unforgettable experience. All entrants and their families are invited to the OWKG 10th Anniversary celebrations, including the Birthday Party event. There is also a Parent-Child, Par 3 contest – with parents and children competing together in the evening on a floodlit Amendoeira Academy course. Parents are also encouraged to act as caddies as yet another feature of the 'family team' experience.
Chris Howell of Amendoeira Golf Resort recently explained how excitement is building for the 2018 event: "Preparations are nearly complete for this year's Oceânico World Kids Golf championship, and to add Portugal Pro Golf Tour to our list of partners means a lot. We value our role in shaping junior golfers by laying on OWKG every year, but to give a junior golfer their first professional start is even more special. It will be an experience they will always remember, no matter where their golf career takes them."
For more information on the Championship, including Age Categories, Entry Requirements and Special Tournament Rates, please visit the Event Homepage at www.amendoeiraresort.com.