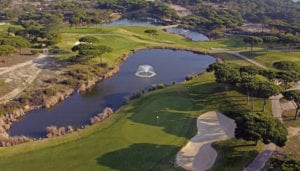 German golfer Corinna Erb has shown that all good things might indeed come to those who wait after scoring an ace playing the Million Dollar Hole in One (MDHIO) competition on the last day of her Portuguese golfing holiday. Erb had already played the Old Course, Victoria, Pinhal and Laranjal before tackling Vale do Lobo's Royal Course for the final round of her trip. Incredibly, this was when, on the par-3, 7thhole, she aced her first ever hole-in-one. Corinna, a 27-handicapper, fired an eight iron and then watched her ball bounce on the front of the green, roll up the slope, and, tantalisingly, disappear into the cup. The Berliner now lines up in MDHIO Grand Final, to be held during the 2019 edition of the US Masters at Augusta, Georgia in April. A repeat of her Vale do Lobo heroics in the US will net her a stunning $1million jackpot.
MDHIO's popular par-3 challenge provides players with the chance to win a selection of golf prizes for landing on the green, while a hole-in-one at one of the 40 associated courses across Europe earns the chance of shooting for the wonderful, one million dollar jackpot. Erb joins the other finalists, as well as former England footballer, Alan Shearer, ambassador for MDHIO's sister company, the Million Dollar Club (MDC), who is expected to attend, following his appearance at last year's final in Austria.
MDHIO has been running since 1990 in the USA, and 2000 in Europe. It has grown in popularity over the years with more than 50,000 people every year now trying their luck- and skill – at courses in Portugal as well as venues across Europe, including Spain, and the UK. Over fifty golfers have notched an MDHIO ace playing in Europe, although over one hundred have missed out by not entering but then scoring a potentially one million dollar hole in one. Vale do Lobo and the other magnificent courses in Portugal will continue to host the challenge as golfers seek to emulate the feat of Germany's Corinna Erb for the chance of winning a fortune. For more information about MDHIO visit www.mdhio.net
Photo: Courtesy of Vale do Lobo.