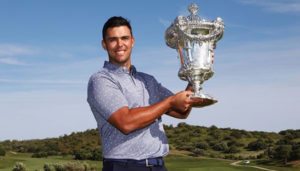 A dramatic 56th Portuguese Open tournament resulted in victory for the Australian, Dimitrios Papadatos who secured his maiden European Challenge Tour title. The Morgado Golf Resort course in Portimão was in fantastic condition as Papadatos returned a final round of a three-under par, 69, for victory by one shot over joint runners-up, Portugal's José-Filipe Lima and Frenchman, Antoine Rozner.
The Australian began the last day one shot behind overnight leaders Lima and Welshman, Stuart Manley but overtook them with two birdies in his first four holes, and the 26-year-old holed a long birdie putt on the 10thgreen to draw further ahead. Despite a dropped shot on 16th, Papadatos secured a fourth gain of the day on the par three 17thfor a commanding position going down the last. Then, tricky eight-foot putt on the 18thset the chasing pack what proved to be an unassailable target of seven-under par and the man from Sydney was crowned champion. Portuguese favourite, Lima had the chance to force a play-off on 18th hole, but was unable to secure the required birdie.
After claiming his first victory in Europe, Papadatos was clearly delighted: "It feels pretty good and a big relief, especially after the last couple of days," he said. "It's been very windy and difficult, you had to grind out results in such a bunched field when it's very hard to break away and get in front. But I was fortunate enough to do that in the end.
"I played the course well today. I was very solid finishing long par putts, and I didn't threaten to make many birdies as I was hitting it poorly today. But I hung in there and my short game was good and I took a couple of opportunities when I got them.
"I've had a couple of wins back in Oz and I've never won in Europe, so it's maybe not the biggest but it's definitely the most important as it's going to get me going over here.
"I've been trying the last two or three years to get myself going in Europe and onto the main tour, so this is a big step forward and it's going to help me out a lot.
With victory in Portugal Papadatos moves up to ninth place on the Road to Ras Al Khaimah Rankings with 32,000 points. Lima's share of second place is the highest finish by a Portuguese player in the home open, and, with 16,350 points, he also rises up the Rankings to occupy 16thplace.
The NAU Morgado course was in typically great condition and tremendous credit goes to everyone at the Portimão venue, including greens staff, in-house staff, organisers and the Portuguese Golf Federation for staging another highly successful, memorable tournament in the beautiful Algarve.
Photo: Filipe Guerra