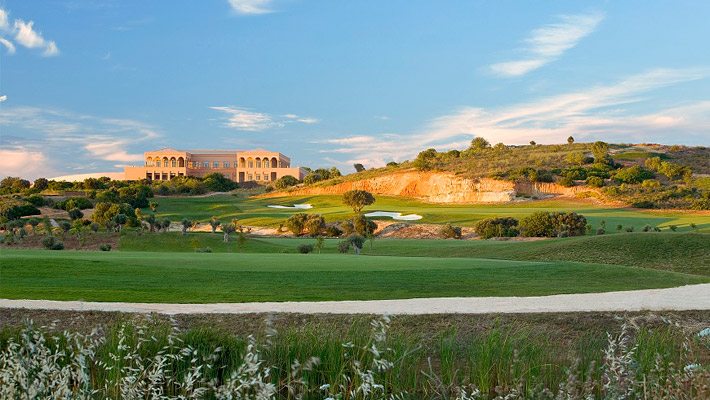 This year's EuroPro Tour Championship is to be held on the Oceânico Faldo Course at Amendoeira Golf Resort in central Algarve. From October 24 until October 26, the tournament's biggest ever prize fund will see the 2017 Race To Amendoeira's top 60 compete for a share of a fantastic €115,000 prize pot. The award-winning Amendoeira Golf Resort, located near the historic town of Silves, boasts two championship golf courses – the Oceânico Faldo and the Oceânico O'Connor Jnr. Designed by Sir Nick Faldo with strategic play in mind, the Oceânico Faldo Course demands careful positioning to score well while the O'Connor Jnr makes equally challenging demands.
After the final event of the regular season at Moor Allerton Golf Club, only the top 60 golfers on the Race To Amendoeira will qualify for the Tour Championship. The tournament is to be filmed for a two-hour highlights package scheduled for a November broadcast on Sky Sports as well as other networks worldwide. Christopher Howell, Chairman, Oceânico Group, said: "We are delighted to be working in partnership with the PGA EuroPro Tour to stage the Race To Amendoeira finalé and look forward to welcoming the rising stars of European golf to enjoy our outstanding facilities."
An equally delighted Daniel Godding, HotelPlanner.com PGA EuroPro Tour Chief Executive, echoed Christopher Howell's sentiments: "We are thrilled to be able to bring our Tour Championship to the spectacular Amendoeira Golf Resort. For the first time our prize fund will hit £100,000 (about €115,000) and the Race To Amendoeira is sure to be the most intense it has ever been such is the quality of golf played on the PGA EuroPro Tour."
The Algarve will once again be showcased as a truly wonderful location for top class golf and this reflects the fantastic facilities as well as the dedicated individuals who have established and maintained the region's prestigious, international golfing status.