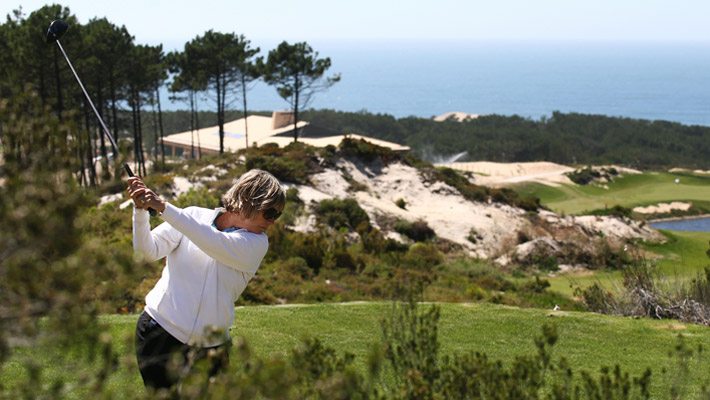 With increasing numbers of Algarve residents and visitors making trips to other areas of Portugal for golf the opening of The West Cliffs Golf Links on the Silver Golf Coast has been met with widespread approval. Located near Obidos, a one hour drive from Lisbon, West Cliffs has been hailed as one of the new stars of European golf. Designed by Cynthia Dye (pictured here teeing off on the 18th hole) from the world-renowned golf architecture company Dye Designs Group, it is the continent's most talked-about new golf course design project.
The first Dye golf course in Portugal – and only the fourth in Europe – the spectacular par-72 clifftop links has been created over 200 hectares of natural landscape, rolling sand dunes and coastal vegetation and offers sweeping views of the Atlantic Ocean from each hole. Cynthia Dye flew in from her home in Colorado, USA, to officially open the layout to a select audience of key European tour operators, media and local dignitaries who delivered a unanimous verdict after accepting the invitation to be one of the first players on the course.
Adam Lawrence, editor of Golf Course Architecture magazine and principal of Oxford Golf Consulting, said: "West Cliffs occupies possibly the best piece of golfing ground I have seen in mainland Europe."
Andy Newmarch, editor of the respected Top 100 Golf Courses website, also applauded the new course: "West Cliffs is one of the very best European openings in recent years, if not the best. It's exciting and dramatic, with quality holes from start to finish, and is simply exhilarating to play. There is no doubt in my mind that it is set to become a big hitter on the European golf scene over the coming years."
Construction work on West Cliffs began last year as Dye and her team worked in close collaboration with local government to ensure minimum disruption to the environment while creating a harmonious and sustainable links in such an enviable location. Fitting seamlessly into its natural surroundings, West Cliffs measures a testing 7,003 yards in length but, thanks its modern design and a choice of several sets of tees, it guarantees accessibility to golfers of all abilities.
Christine Dye's recently conveyed her excitement and enthusiasm for the project: "This has been an incredible project to be involved in, right from the moment when I first visited the site and saw what was possible 14 years ago. With its amazing location and terrain, West Cliffs is the most fantastic natural golf course site imaginable. The course was really already there for us and it was our job to shape the holes to create an incredible, dramatic experience for everyone that plays it."
West Cliffs is being managed by Praia D'El Rey – one of Europe's leading resorts – which is celebrating its 20th anniversary this summer and complementing the course is the golf academy for players to warm-up, learn and improve. Also, a stylish and eco-friendly clubhouse offers guests exclusive panoramic views of the course and the Atlantic Ocean from three sides of the glass-fronted building. Francisco Cadete, director of golf at West Cliffs Golf Links, is supremely confident that all golfers will relish the course: "West Cliffs is a truly wonderful golfing experience that can be enjoyed by players of all levels. We've already received a lot of interest and bookings from all over Europe, and the combination of playing the new links with the championship course on offer at Praia D'El Rey makes the resort a very attractive proposition for players seeking a five-star golfing break."
Portugal is an established international golfing location and this latest innovation further reinforces the country's status as a world class venue which is great news for residents and visitors in search of a top quality golfing experience.
For further details about West Cliffs Golf Links visit www.westcliffs.com