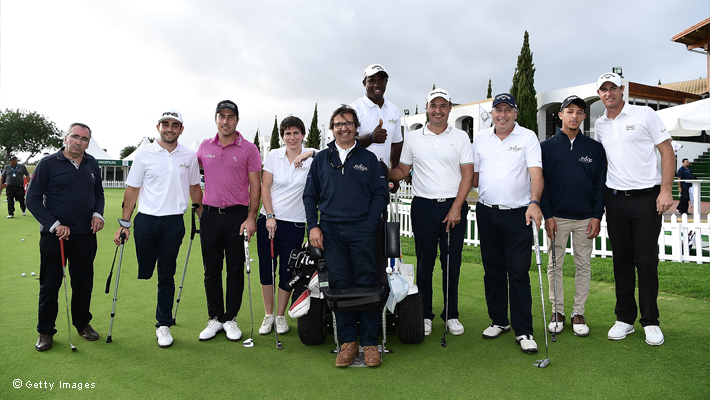 The European Disabled Golf Association (EDGA), an international non-profit organisation for golfers with disabilities, has been selected as the Official Charity of the Portugal Masters for the second consecutive year. Over €22,500 was raised during the 2016 Portugal Masters and assisted EDGA with the training of 20 of Portugal's golf professionals to support people with disabilities and encourage them to try golf. Projects have begun in the Algarve and Lisbon with even more planned for Lisbon as well as Oporto. A range of deserving groups including the visually impaired and children with special needs and their parents are supported by EDGA.
Fundraising opportunities during 'Masters week include a grand draw with prizes donated by tournament sponsors. Spectators can also give €1 to EDGA in return for a daily draw sheet and there will be various activities during the Wednesday pro-am. Elite disabled golfers are on site to play the 18th hole on Saturday afternoon and also involved in Sunday's long drive exhibition.
Peter Adams, Championship Director of the Portugal Masters, said: "It's wonderful to see how the funding raised through last year's tournament has assisted and created projects that help individuals with impairment to enjoy golf. The work carried out by EDGA across Portugal, Europe and on a global scale makes a real difference, and I encourage spectators attending the Portugal Masters this year to contribute to this very worthy cause."
Tony Bennett, Director of Education and Membership of the PGAs of Europe and President of the European Disabled Golf Association, also underlined the importance of support from the Portugal Masters: "In a country where the number of golfers with a disability can be counted in the tens rather than hundreds or thousands the projects that we are embarking on will make a huge difference."
Formed in 2000, the EDGA comprises of governing bodies from 23 countries and is uniquely positioned to aid the development, support and delivery of golf for individuals with impairment. Groups world-wide regularly consult with the EDGA for guidance, information as well as advice on the definitions of impairment, eligibility and golf tournament criteria. What is already clear is that Portugal Masters will again help to ensure that people across the globe might benefit from EDGA's fantastic support.