A magical turn of events at the PT Tour Final at the Dom Pedro Victoria Golf Course this Tuesday, March 15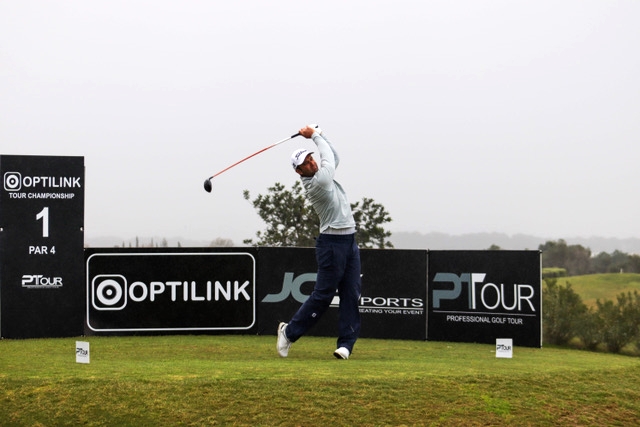 March 16, 2022 —
After a turn of 7 below the par at the Magical Kenya Open, former national champion Ricardo Santos began the second round with -6 on the second day of the PT Tour Final at the Dom Pedro Victoria Golf Course, in Vilamoura
Ricardo Santos brought some magic from the Magical Kenya Open (of the DP World Tour) and jumped yesterday to the lead of the Optilink Tour Championship, after the second turn of 66 hits, 6 below the par.
Out of the two days of the 2021/2022 PT Tour Final, these 66 strokes were the best turnout of all the 70 participants.
The 39-year-old Algarvian state: "Yes, I have been playing well. It was the biggest difference to yesterday's game. I placed the ball much closed to the flag and only failed one green." In his last competition at the Kenya Open, Santos had finished his participation with 7 strokes below the par – his third-best turn ever in the first European professional golf division.
Ricardo Santos totalled 136 strokes, 8 below the par, after turns of 70 and 66, and has climbed from the 3rd place to the 1st, now enjoying an advantage of 8 strokes over the 2nd place, Scotsman Sam Locke (72+68).
Meanwhile, Pedro Figueiredo (68+73) who was leading at the 18th hole, now joined the group in 3rd place, with 141 (-3), together with another Portuguese, Hugo Santos (69+72) and the Brits Bradley Bowden and James Adams, both with turns of 72 and 69.
"This tournament is great to train in a competition, especially being so close to home. Since I didn't enter the South African tournament, it makes every sense to participate in this tournament, to prepare for the next week's", added Ricardo Santos, the former two-times National Champion (2011 and 2016), who didn't suffer any bogey this Tuesday and made six birdies.
Portuguese positions
Apart from the Santos brothers and Pedro Figueiredo, there are nine other Portuguese golfers in the Tour.  This Tuesday, Pedro Almeida, Pedro Lencart, João Girão, Miguel Gaspar and Alexandre Abreu rose in positions.
12.º (tied) Tomás Melo Gouveia, 144 (71+73), Par;
17.º (tied) Pedro Almeida, 145 (74+71), +1;
32.º (tied) Pedro Lencart, 149 (76+73), +5;
32.º (tied) João Girão, 149 (75+74), +5;
53.º (tied) Hugo Camelo (amateur), 155 (74+81), +11;
56.º (tied) Guilherme Oliva (amateur), 156 (77+79), +12;
59.º (tied) Miguel Gaspar, 158 (81+77), +14;
62.º (tied) Alexandre Abreu, 159 (79+80), +15;
66.º João Magalhães, 161 (78+83), +17.
The Optilink Tour Championship ends today, with the last round starting at 8am.
Read more: 
Algarve golfer Ricardo Santos takes the lead at the Optilink Tour Championship
Pedro Figueiredo leads the Optilink Tour Championship 2022
Want to know the secret to better golf? It's all in the feet
Pestana Silves International Golf with a new course record
Quinta do Lago wins 2021 IAGTO Sustainability Award for Resource Efficiency