The former Champion becomes the first Portuguese to win a PT Tour Final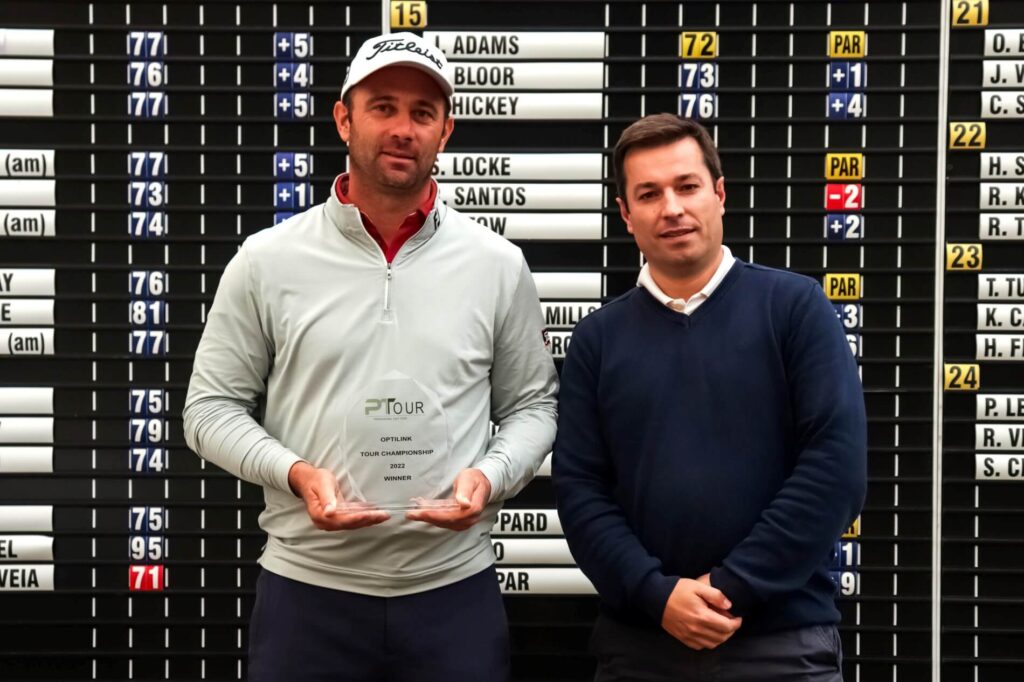 March 17, 2022 —
Ricardo Santos returned to victories after three years without tittles, winning this Wednesday (March 16) at the Optilink Tour Championship, at the Dom Pedro Victoria Golf Course in Vilamoura, becoming the first Portuguese to win the Final of the PT Tour.
National Champion in 2011 and 2016, he handled well the opponents' attacks and managed to stretch the margin of his victory, with 6 strokes to the 2nd place, Scottish player Kieran Cantley and British Ben Bailey.
With a third and last round of 67 strokes, 5 below the par, very close to Tuesday's record of 66 (-6) where he jumped to the lead, Ricardo Santos totalled 203 (-13) and won a cheque of €3,500, from the total prize-money of €20,000.
Ricardo Santos, playing at home in a field that he represented for many years in the DP World Tour – the first European division -, only suffered 3 bogeys in the three days of the competition. And yesterday, only at the last hole, 18, where he made a birdie in the previous days. On the other hand, he converted 16 birdies, showing that he is now again in a good shape.
"My game is going in the direction that I want, to have more winning opportunities or fight for them", added the golfer, who doesn't feel like he has to make extreme adaptations to his game after so many years in the circuit.
"The game is similar to the last 10 years. Age brings more maturity, yes, and it makes you face the game differently", said the 39-year-old.
And that maturity allowed him to attack the last round right from the beginning and to take the place of any potential rivals, with 2 birdies in the first two holes and 4 birdies in the first nine.
"Today was much better, it didn't rain and it wasn't windy, – it was perfect for golf. I was very solid, especially in the shots to the green", explained Ricardo Santos, who will return to the DP World Tour (ex-European Tour) with more motivation, where he has been competing in this 2022 season.
"It's always good to win again, especially when the last victory was two and a half years ago, more or less", said the champion. His last winning title was at the 2019 Challenge Sweeden, integrated into the second division of European professional golf. And in this PT Tour, Ricardo Santos hasn't been wining since the 2018 Palmares Open, also in the Algarve, when the circuit was still called Portugal Pro Golf Tour.
Portuguese players in the Top-10
This season, the Optilink Tour Championship boasted a total of 70 participants, with three more Portuguese players placing in the Top-10 positions.
Pedro Figueiredo, also a player of the DP World Tour, was the first leader of the tournament, after a strong initial turn of 68 (-4), finishing in 8th place with 213 (-3).
Tomás Melo Gouveia, a member of the Challenge Tour, ranked 9th, with 214 (-2), scored a draw with Portuguese Hugo Santos and Scotsman Jeff Wright,.
This year's PT Tour counted with many surprises – counting for the amateur world ranking and also offering monetary prizes to the three best amateur players of each tournament.
Here are the main Portuguese scores:
1.º Ricardo Santos, 203 (70+66+67), -13;
2.º (tied) Kieran Cantley (Escócia), 209 (73+70+66), -7;
2.º (tied) Ben Bailey (Inglaterra), 209 (71+71+67), -7;
8.º Pedro Figueiredo, 213 (68+73+72), -3;
9.º (tied) Tomás Melo Gouveia, 214 (71+73+70), -2;
9.º (tied) Hugo Santos, 214 (69+72+73), -2;
21.º (tied) João Girão, 219 (75+74+70), +3;
30.º (tied) Pedro Lencart, 220 (76+73+71), +4;
35.º (tied) Pedro Almeida, 224 (74+71+79), +8;
45.º (tied) Hugo Camelo (amador), 227 (74+81+72), +11;
55.º (tied) João Magalhães, 231 (78+83+70), +15;
57.º Miguel Gaspar, 233 (81+77+75), +17;
59.º (tied) Guilherme Oliva (amador), 236 (77+79+80), +20;
63.º (tied) Alexandre Abreu, 242 (79+80+83), +26.
Read more: 
Pedro Figueiredo leads the Optilink Tour Championship 2022
Want to know the secret to better golf? It's all in the feet
Pestana Silves International Golf with a new course record
Quinta do Lago wins 2021 IAGTO Sustainability Award for Resource Efficiency