Pestana Silves International Golf heralds in a golfing dawn with new course record by Anders Lijsing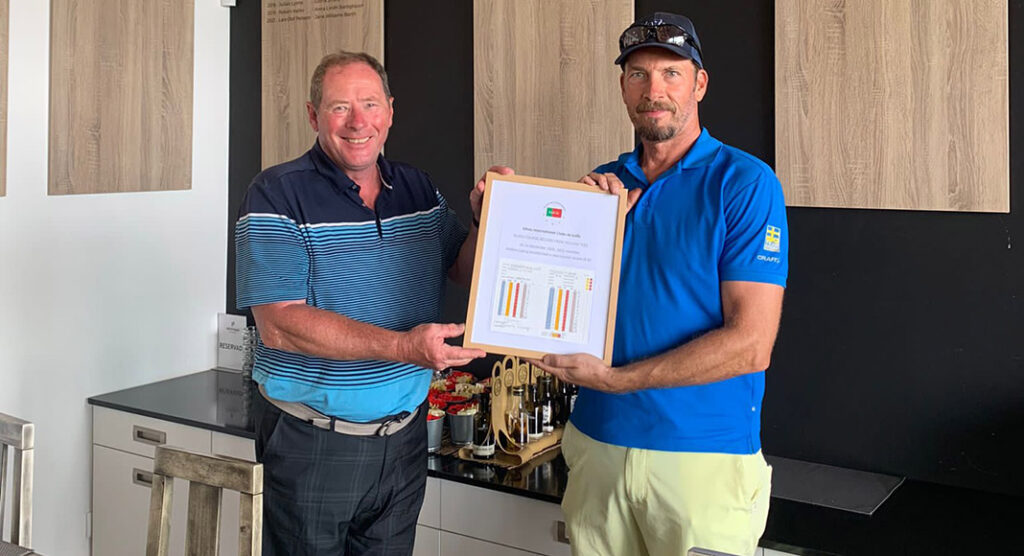 March 2022 —
With golf in the Algarve now returning to a very welcome normality, Anders Lijsing, a member of SICG (Silves Internacional Clube de Golfe), has heralded the beginning of the new golfing dawn by establishing a new course record at the fabulous Pestana Silves course. Teeing off from the yellow tees, Anders recently returned a sensational score of 67 to establish the new course record.
Anders, seen here on the right being presented with the framed scorecard by SICG Captain Brendan O'Connell, praised his playing partners who accompanied him when establishing the record.
"I began very well, and just hoped to continue to maintain my consistency as we approached the halfway stage. However, when managing to record a few birdies on the back nine, it occurred to me that a very good score was a possibility and, to be honest, I then began to experience some nervous moments! Despite this, and thanks to the calm encouragement of my playing partners, I managed to hold it together and putt out on the last for what I later learned was the new course record. It really is a wonderful feeling."
Captain Brendan conveyed his delight and also pride at Anders' achievement. "Silves is a fantastic golf course and while it is in a beautiful setting, it presents a real challenge for all levels of golfers. For Anders to have returned a score of 67 is truly fantastic, and I expect the record to stand for a very long time. Everyone at SICG is immensely proud of this achievement by one of our members, and Anders is an inspiration to us all."
With golf in the beautiful Algarve steadily returning to previous levels of popularity, Anders Lijsing's sensational achievement encourages real positivity going forward. As life's recent challenges are steadily being overcome, it is fitting that the great game of golf, inextricably linked with the stunning Algarve, provides yet another source of serious optimism for the future.
By TOM CALLAN
Source: Algarve Resident Newspaper