The Portuguese golfer is currently in the lead at the Optilink Tour Championship with 4 other national players in the Top 5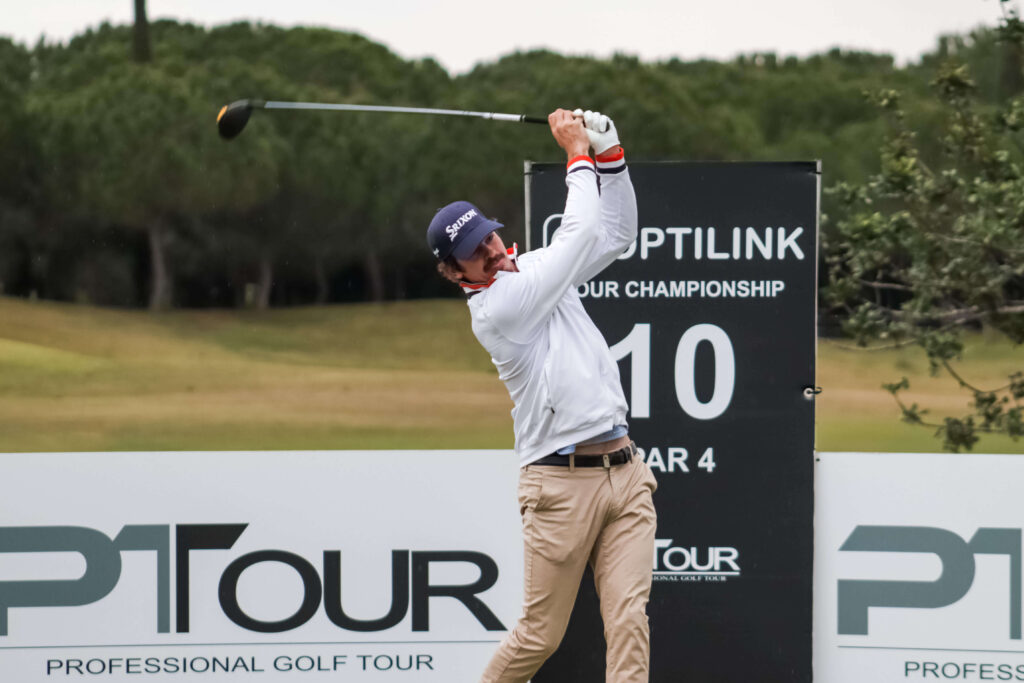 March 2022 —
The PT Tour is the only international circuit of professionals in Portugal, with a final tournament prize of €20,000 at the Dom Pedro Victoria Golf Course, in Vilamoura. This is the last circuit of the 2021/2022 season, with a total of 70 players. The tournament began this Monday, March 14 and ends this Wednesday, March 16.
In a time when most European circuits are closed due to the bad weather and there are not enough seats for the South African tournaments, the Optilink Tour Championship has been a great opportunity for players of the DP World Tour and Challenge Tour, many of which chose to participate this week.
On the first day, Pedro Figueiredo was leading with 68 strokes, 4 below-par. Meanwhile, Ricardo Santos shared 3rd place with English golfer Stuart McLaren, on 70 (-2).
"The day hasn't been easy today, with some rain in the first nine holes, the field was wetter than we are used to during the Portugal Masters, for example, as the ball rolls less and the field becomes larger and the greens softer," said Pedro Figueiredo, who nonetheless managed a good turn without suffering a bogey.
Pedro Figueiredo and Ricardo Santos have played at the DP World Tour last year – the first European division – but, as Santos explained, "the South African tournaments only give 75 spots for the European Tour players and 75 to the Sunshine Tour, making it hard to get in".
In fact, this week at the Steyn City Championship, in South Africa, there will be only one Portuguese golfer, Stephen Ferreira, competing, as he is in the Top-50's Merit Order of the Sunshine Tour, with Ricardo Melo Gouveia injured.
Portuguese lead the Top-5: Pedro Figueiredo, Ricardo Santos, Hugo Santos and Tomás Melo Gouveia
At the Optilink Tour Championship in Vilamoura, joining the leader Pedro Figueiredo (national champion in 2013) is Ricardo Santos (national champion in 2011 and 2016) in 3rd place, the Hugo Santos (National Champion in 2012) in 2nd, with 69 (-3) who is also training the Vilamoura Golf Club whilst competing, having won one of the FPG Circuit Tournaments last year. And the last of the Top-5 is Tomás Melo Gouveia, with 71 (-1), a player of the second European division.
Tomás Melo Gouveia, Champion of the PT Tour Tournament of last month, is sharing his place along with three British men: Ben Bailey, John Ross Galbraith and George Bailys.
Among the other Portuguese players is Hugo Camelo, who was in the spotlight in February, after placing in 16th at the last International Amateur Portuguese Championship (Campeonato Internacional Amador de Portugal)
Read more: 
Want to know the secret to better golf? It's all in the feet
Pestana Silves International Golf with a new course record
Quinta do Lago wins 2021 IAGTO Sustainability Award for Resource Efficiency