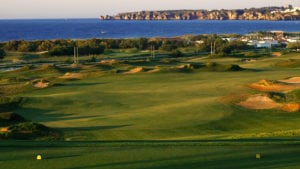 In the country's 'national tourism Oscars', the Algarve's five-star Onyria Palmares Beach & Golf Resort has been named as best course in Portugal, for an astonishing seventh successive year. Indeed, Palmares has won the award every year since its reopening in 2011, following an extensive redesign by Robert Trent Jones Jnr. The stunning 27-hole complex, in Lagos, now also boasts a 5-star boutique hotel, and landed the title at the much-vaunted Publituris 2018 Portugal Travel Awards, regarded by many in Portugal's tourism industry as the 'national tourism Oscars'.
The awards, now in their 15th year, were created by Portugal's leading travel trade magazine, Publituris. The aim was to reward the best in Portuguese tourism, and the winners are determined in a weighted average of votes from both the public and a jury of industry figures. Palmares – also the fourth highest new entry at 66 in Golf World's recent 'Top 100 Golf Resorts in Continental Europe' – was in good company, with other award winners, including household names, such as, TAP Portugal (best airline), EasyJet (best low-cost company) and Europcar (best car rental).
On being presented with this latest award, Palmares Operations Director, António Pinto Coelho's pride was unmistakable: "To say simply 'we're delighted', doesn't really sum up our feelings at the moment. It's a fabulous achievement under any circumstances, but to achieve it this year, when, arguably, the competition was stiffer than ever before, is remarkable and makes us incredibly proud. And, now we've got the 5-star Beach House Hotel on site, we'll also be setting our sights next year on top spot in the 'best resort' category too. We have no intention of resting on our laurels, now or in the future."
In what is widely regarded as the perfect golfing location, the Onyria Palmares Beach House Hotel is within easy walking distance of the tees and practice area of the ever-popular, 27-hole Robert Trent Jones Jnr golf course. The renowned set-up comprises three 9-hole loops: the Alvor, the Lagos, and the Praia courses, all with beautiful panoramic views across the Bay of Lagos. Each lay-out presents a different kind of golfing challenge in a glorious, natural environment, and the course was ranked number 26 in Golf World's benchmark 'Top 100 Golf Courses for 2017/18 in Continental Europe'.
The achievement of a seventh successive title is truly remarkable and reflects the vision and hard work of everyone at Onyria Palmares, a truly sensational golfing venue.