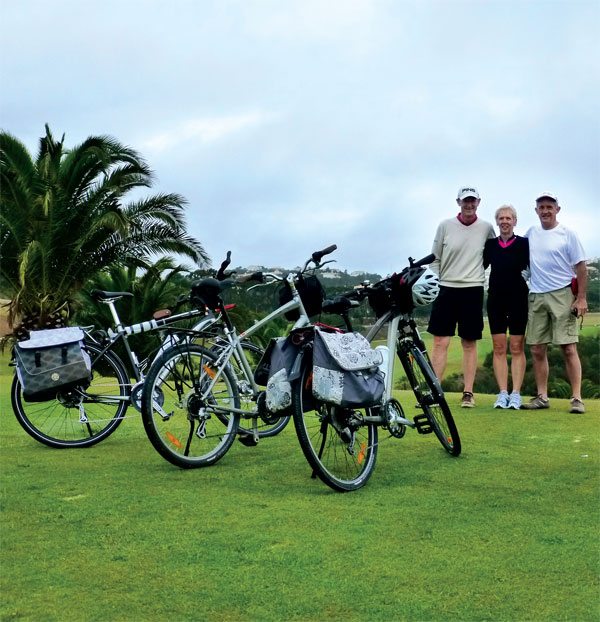 Tony Bennett, President of EDGA ,the European Disabled Golf Association, and his wife Sue completed an epic feat to raise funds, heighten awareness and encourage support for the association. Playing one hole at 74 courses over Portugal, Madeira and the Azores, they visited northern, central and southern Portugal before completing the challenge in Madeira. Leaving Lisbon in early 2014, they negotiated fully loaded cycles across the country. 21 holes later, they then headed north where they cycled for over 37 hours covering 550 kilometres to reach their 34th hole. Then it was on to the Algarve for round three.
Tony and Sue visited 35 Algarve courses over five days. Starting at Santo Antonio they played at Espiche, Boavista, Onyria Palmares, Penina Championship, Morgado, Alamos, Pestana Alto, Pestana Gramacho, Pestana Vale da Pinta, Vale de Milho, Pestana Silves, Oceânico O'Connor Jnr, Oceânico Faldo Course, Salgados, Balaia, Pine Cliffs, Oceânico Victoria, Oceânico Millennium, Oceânico Laguna, Oceânico Old Course, Oceânico Pinhal, Pestana Vila Sol, Vale do Lobo Ocean, Vale do Lobo Royal, Quinta do Lago, San Lorenzo, Pinheiros Altos, Laranjal, Benamor, Quinta da Ria, Monte Rei Quinta dos Vale before reaching Castro Marim.
Finally, they reached to the Azores and Madeira to notch up the fantastic total of 74. Phew!
www.edgagolf.org