Algarve offers specialist treatments before and after playing golf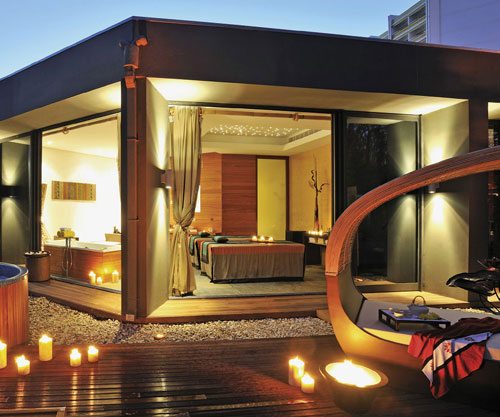 – February 26, 2015
A wide variety of spa treatments are available in the Algarve to ensure that the whole experience of enjoying golf includes opportunities for specialist treatments before and after playing golf. Vilamoura, conveniently located in central Algarve, has some of the best spa facilities in Portugal.
The Hilton Vilamoura at Cascatas Golf Resort and Spa, for instance, offers a full menu of individualised treatments in its prestigious 7Seven Spa facility.
Also in Vilamoura, The Tivoli Marina Hotel boasts a sparkling range of spa treatments with its exclusive Angsana Spa even offering the appropriately named Hole-in-One massage. Typically, golfers benefit from massage for the back, legs, head and shoulders. However, individual golfers have different requirements and the experienced health and fitness staff customise treatments for a highly personalised service. Marta Pinto, Tivoli Spa Manager, explains that the specialist treatments like the Hole-in-One massage are individually tailored to fully support golfers of all abilities.
"The treatment is totally designed to relieve strain by concentrating on the lower and upper back as well as the legs and feet ­ all areas of the body susceptible to pressure due to playing golf. Golfers are not only relaxed after golf but also well prepared to enjoy their next round."
Algarve golfers are indeed privileged to have such extensive, high quality spa provision so readily available and can be fully prepared for every single time they take to the fairways.