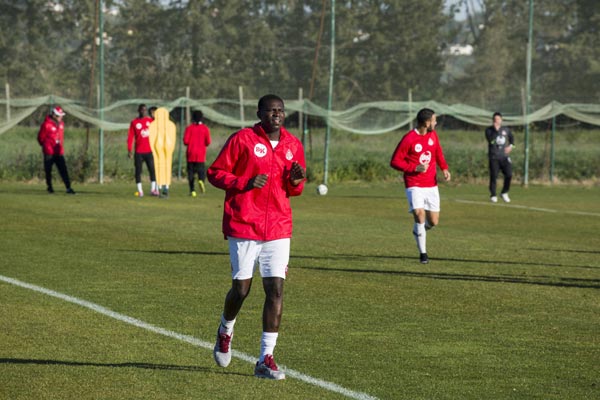 The new Serbian manager of FC Kabuscorp, Ljubomir Ristovsk ("Risto"), recently led his team to the Algarve for intensive pre-season training. Organized by sports agents Jorge Duarte and Sérgio Leite, Kabuscorp Sport Clube do Palanca conducted their preparations for the coming season at the Oceânico Amendoeira Golf Resort near Silves.
Kabuscorp are vice-champions of 'Girabola' (Angola's premier soccer league) and engaged in an intensive training camp to assess team strategy and increase fitness levels. The new manager used the opportunity to get to know his players better and was suitably impressed when Kabuscorp won a friendly match at the Amendoeira Sports Club against Ferreiras by 6 goals to 1! Risto was delighted with the performance as well as the result. "This was a great practice match and we played with more or less 22 players. The response was good … it is always good to win to increase confidence."
Kabuscorp trained at the Amendoeira Sports Club within the grounds of the Amendoeira Golf Resort and had exclusive use of the full-size natural grass pitch in complete privacy. "The pitch is in excellent condition", reported a very happy Risto. Players, staff and the management team stayed in spacious and luxurious accommodation enjoying healthy, nutritious meals prepared to the team's requirements at the stunning Amendoeira Clubhouse. Unsurprisingly, the coach is already planning future training camps at Amendoeira. "In 10 days of training camp we were really delighted with the accommodation, meals and the football pitch. Staff are always very friendly and helpful and we definitely want to return for future pre-season training and on behalf of everyone at Kabuscorp I would like to pay tribute to the Amendoeira Golf Resort staff for all their fantastic work. Many thanks!".
The Oceânico Amendoeira Golf Resort also recorded their gratitude to Kabuscorp and its President, Benedict Kagamba, for again choosing Amendoeira to prepare for their new season. With Al-Arabi Sporting Club, Blackpool FC, NEC Nijmegen and Aston Villa FC among some of the top teams to have chosen the Oceânico resort for pre-season training camps, Kabuscorp are in very good company! In addition to facilities used by professional sports teams, the Amendoeira Sports Club boasts two 5-a-side football pitches and six tennis courts and on-site golf courses include the Oceânico Faldo Course designed by Sir Nick Faldo, the Oceânico O'Connor Jnr. course designed by Christy O'Connor Jnr. and the 9-hole, par 3 Oceânico Academy course.
The experienced Oceânico Amendoeira Golf Resort team will prepare bespoke training packages including off-site excursions and team building activities specifically tailored to meet individual team requirements. Major clubs seeking to engage in serious preparation in a luxurious setting which meets the standards demanded by top professional sportsmen and sportswomen need look no further than the Oceânico Amendoeira Golf Resort located in the beautiful Algarve.