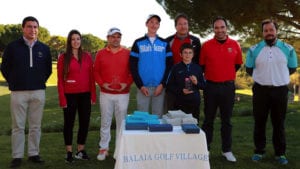 Swiss national, Richard Amey lived in Spain for 6 years where young son Alex first displayed an interest in golf, including pitch and putt. On settling in the Algarve, however, Richard was surprised that, even although P&P is already established in other parts of Portugal, there was a dearth of P&P facilities in the region and no official organisations. Richard then made a decision to address the situation and the result is that now, just two years later, Algarve P&P has burst into life.
Named the Philia Cup, events were first staged at the Oceanico Amendoeira resort in central Algarve. The rapid rate of progress last year resulted in no fewer than eight events, with the prestigious Vilamoura Golf Club also providing invaluable support. The Vilamoura club agreed to establish the first official Algarve P&P club, with players able to register and acquire an official P&P handicap. The Algarve competitions soon gained national recognition as increasing numbers of golfers participated. What had begun as Richard's wish to provide an appropriate facility for his son has developed into a new and exciting dimension of golf in the Algarve.
Under the auspices of Vilamoura Golf Club, the latest P&P event was staged at the Balaia Club near Albufeira, with 29 competitors taking part in glorious sunshine. However, as Richard Amey explains, it has not all been plain sailing: "I decided to organise the Philia Cup to try and establish official handicaps and national rankings for players. It then took me one year, fighting and trying to change old habits. This event at Balaia, the first of 2019, was a fantastic challenge in beautiful conditions for the 29 players, but also a great reward for those of us involved in making it happen. The people at Balaia gave fantastic support, and it must be said too that an absolutely crucial factor in developing P&P in the Algarve has been the fabulous support of Vilamoura Golf Club."
The Vilamoura Golf Club established the first official Algarve P&P club which is now recognised by the Portuguese Golf Federation (FPG). The objective now is to have even more Algarve clubs supporting Pitch and Putt for juniors, seniors and indeed any golfers wishing to participate in the sport. As Richard Amey recently underlined, "with official recognition and backing, P&P in the Algarve has really taken off with players now able to register and obtain their national handicaps."
Full details of the recent Philia Cup event at Balaia can be accessed on the Facebook page and on the FPG website, where information about the next official P&P event in the Algarve will also be announced. The latest prize winners at Balaia are as follows: 1st gross: Luca Lopes (Vilamoura); 2nd gross: Tiago Abrantes (Quinta do Lago); 1st net: Hugo Espírito Santo (Quinta las Lagrimas, Coimbra). Winners are featured in the photograph with equally delighted organisers including Richard Amey (3rd from the right).