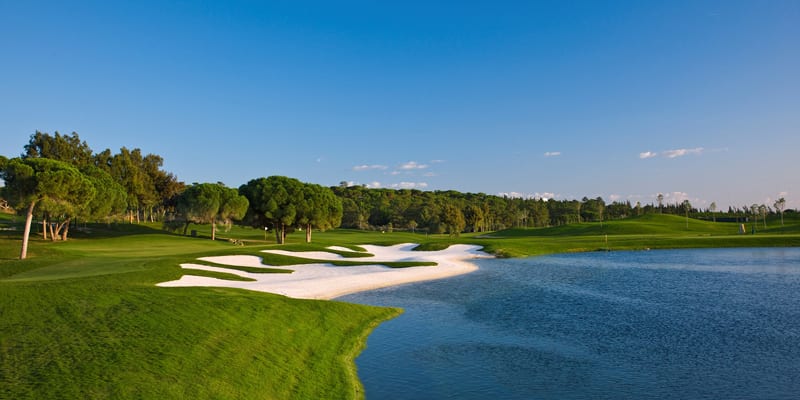 Portuguese Government plans for a staged process of relaxing Coronavirus restrictions have signalled the opening of some golf courses in the Algarve this week
By Tom Callan – May 8, 2020
It has been stressed that courses will be subject to strict monitoring in line with government and world health advice to minimise risk, while allowing the phased revival of one of the region's most valuable social and economic activities.
Algarve courses already open include some in the Pestana Group, and also Quinta do Lago. Prior to opening, staff at the various courses and facilities were briefed on new regulations and revised health and safety operating procedures. Only informal, social golf is currently allowed, and Rui Gago, Pestana Golf Resort Director, has underlined the importance of adhering to the regulations: "It will be essential that golf reopens in a responsible and safe way and that government & health authorities advice and policies are adhered to at all times."
Pre-booking is also a requirement, and golfers should not arrive at courses without a prior arrangement. Sean Moriarty, Quinta do Lago CEO, has outlined the importance of safe practice "to ensure that our community and staff are kept safe, and, though we are raring to go, the health of our community is our absolute priority."
Restaurants and bars remain closed during these initial stage of reopening golf clubs, and other restrictions include rental buggies only being available for single person use – in line with the 2-metre distancing requirement. On the golf course, players must also adhere to social distancing while observing the rules for not sharing or exchanging equipment and, such as, not touching flag sticks on the greens.
All the golf courses now open will feature extensive had sanitising facilities, and the ambience of clubs will be clearly dominated by the need for safe, responsible social interactions. While on the horizon, the return to full capacity and practice for Algarve golf is still some way off. However, this early stage of the planned transition is to be welcomed by both golfers and the wider Algarve community as an encouraging sign of better times to come.