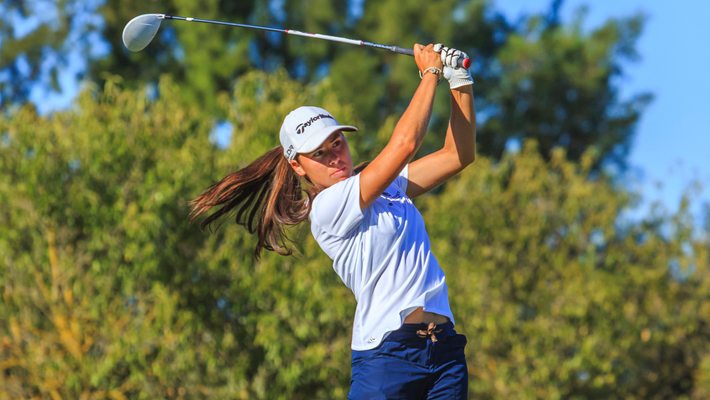 A Quinta do Lago golfing star of the future has been selected for the prestigious Orange Bowl International Golf Championship in Miami, USA. Sara Gouveia, 17, (pictured) Under-18 National champion, was chosen by the Portuguese Golf Federation to compete in the 72-hole, invitation-only, event at Biltmore Golf Course, Miami. Sara's achievement is a major highlight for Quinta do Lago's newly-formed junior team and is fitting recognition for the coaching team led by head coach and academy manager, Jose Ferreira. Quinta do Lago, now celebrating its 45th anniversary, has long been credited for its support of junior golf, inlcuding a five-year involvement with the Telegraph Vitality Junior Golf Championship, the regular staging of the McGinley Junior Cup and, most recently, hosting the inaugural Junior Open.
Sara – no relation to Portugal's highest-ever ranked golfer, Ricardo Gouveia – is the first Portuguese girl to play in this prestigious international event. The Junior Orange Bowl is a volunteer-led, not-for-profit organisation providing athletic, academic, and cultural competitions drawing more than 7,500 youngsters from Miami, the state of Florida, across the United States, and over 76 countries worldwide. The golf tournament's past players include top names like 1977 winner Mark Calcavecchia; Tiger Woods, who triumphed in 1991; 2000 champion Kevin Na; Bubba Watson, and Lexi Thompson.
Jose Ferreira, who has coached golf since 2006 and will accompany Sara to the tournament, recently spoke of his pride in the achievements at QdL: "This is the first year the Quinta do Lago Junior Club has been running, but we have worked so hard building up the junior coaching over the last five years. To finish the season on this high is fantastic and credit to Sara and the coaches here as the Orange Bowl is one of the most respected amateur events in the world. We have had the privilege to work with some great talent. When I first started at Quinta do Lago we had very few juniors but a lot of hard work has gone into attracting juniors to golf. I started creating holiday camps with several levels of development, enabling players of different ages and abilities to have fun and enjoy golf. The programme has become a huge success. Over the last four years we have had around 1,500 kids in our camps. The future is looking very bright."
Quinta do Lago's golf academy boasts five resident senior professionals and five assistant pros, and enjoys a partnership with the PGA and Birmingham University to reinforce the coaching staff during peak seasons. The programme has seen notable achievements from other future stars such as Calvin Holmes, now 15, securing Under-10, 12 and 14 national championship titles between 2012 and 2015 for a highly consistent run of succes. Other successes include last year's vice national champion, Rodrigo Marques Santos, aged 9, who was Under-10s national champ in 2016; Martim Ribeiro, 11, claimed 1st place in the Under-10s Order of Merit for 2016; Tiago Abrantes, 11, was ranked second on the South Region rankings and fourth in the national rankings, and Filipa Capelo, 15, the Under-16s vice national champion, was top in the Under-16s national rankings and a semi-finalist in the FPG Cup. Of course, while the prize winners are deservedly in the limelight, the hundreds of youngsters now flocking to Quinta do Lago to improve and enjoy golf is in itself a major accolade for the players, their supportive parents and the QdL staff dedicated to introducing juniors to the sport.
With such solid foundations in place for junior golf at stunning Algarve locations like Quinta do Lago, Vilamoura and Amendoeira, as well as a host of other clubs across the region, golf in Portugal is assured of a bright, golden future. For more information on Quinta do Lago golf, visit: www.quintadolago.com