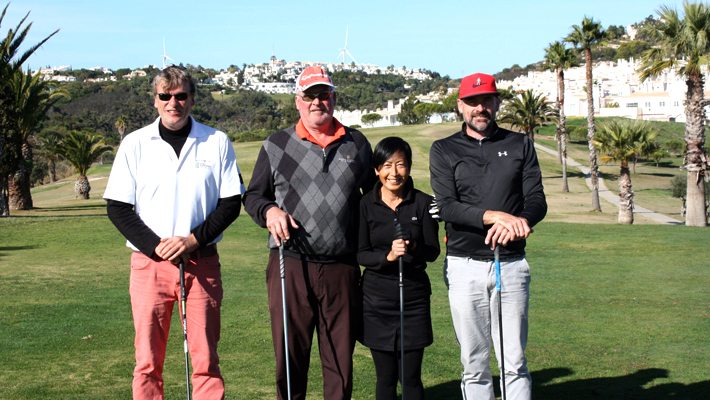 Following highly successful events over Christmas and New Year 2018, Golf Santo Antonio, at Parque da Floresta, has announced its plans for another fabulous festival this Easter. The Christmas and New Year's Festival ran over three days with events including a Christmas Eve Shotgun Texas Scramble, a Greensomes Stableford – The Newland's Trophy, and a New Year's Day Shotgun Texas Scramble. All competitions were well subscribed and worthy winners were as follows: Christmas Eve Texas Scramble – Francisco Borges, Marcelo Castela, Tiago Borges, and Rui Glória; The Stableford Newland's Trophy – Gillan Andrew and Andy Stephenson; and, finally, on 1st January, the first victors of 2018 when taking the Texas Scramble prize were – Bob Hart, Duane Wessels, Rie Cherubini, and Giles Fox (pictured).
The 2018 Easter Festival is to be staged between 30th March and 2nd April with four exciting competitions on the programme: Friday 30th March – Texas Scramble – teams of 4; Saturday 31st March – The Stock Pot / Pairs Better Ball Stableford; Easter Sunday, 1st April – Dubai Stableford – teams of 4; and, on Monday 2nd April, the Am Am – for teams of 4, concludes the golfing action.
The Easter Festival is open to all with a fantastic, special green fee rate of just €25 per competition, plus any applicable entry fee. To round off what promises to be a memorable occasion, a Prize Giving Dinner featuring a delicious menu, professional service and live entertainment ensures that the Festival will sign off in appropriate Santo Antonio style.
For details of the Easter Festival go to: www.saresorts.com; or, email: golf.reservations@saresorts.com ; or, tel +351 282 690 054; or, of course, by visiting the Golf Reception at the resort where a warm Santo Antonio is assured.