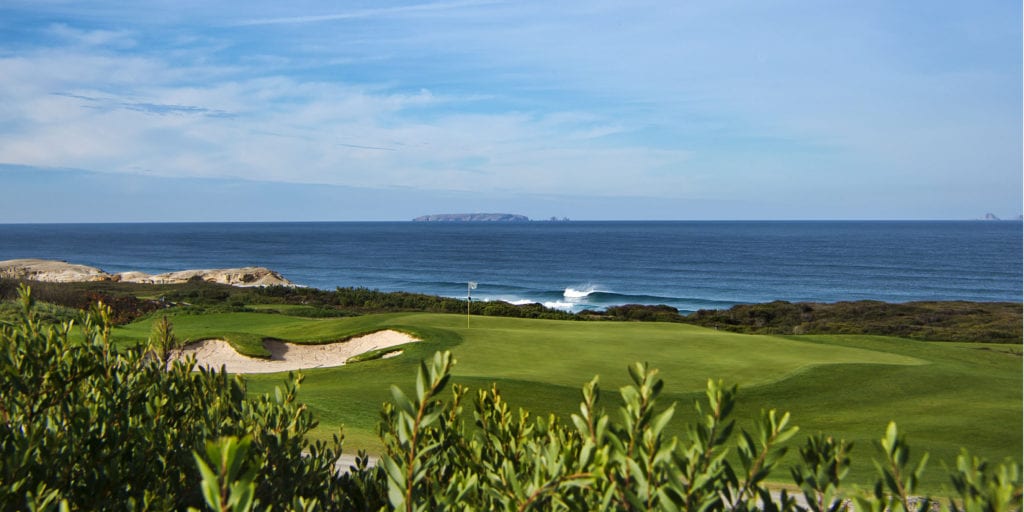 As 2019 draws to a close, Portugal's established status as an international golfing location of choice, has been further enhanced with the news that West Cliffs Golf Links is now ranked in Europe's top 15 golf courses in an influential new industry list. Barely two years after opening, the spectacular links-style layout on Portugal's Silver Coast continued its rise up the rankings after being rated 15thin National Club Golfer magazine's updated table of Continental Europe's Top 100 Courses'.
In a further boost for Portuguese golf, Praia D'El Rey – sister course to West Cliffs – is also ranked highly at number 36, making Praia D'El Rey Marriott Golf & Beach Resort the only venue in Europe to have two courses included in the top 40 places. All courses were assessed across nine categories: design, condition, consistency, setting, playability, challenge, variety, routing and charm – with West Cliffs receiving particular praise from the magazine's judging panel for its setting, charm and variety of holes.
Delivering its verdict, the judging panel praised the fabulous Portuguese course: "West Cliffs is an instant continental superstar. It has a fabulous coastal setting …. this is an epic new seaside course that has within two years become a must play in continental Europe. The design is fantastic. There is so much to like here, from the variety of holes to the breathtaking sea views. Kudos to Cynthia Dye for clearly putting a lot of thought into the design, for this is so much more than a nice setting.
"Indeed, changes in elevation give it the kind of panoramas enjoyed by very few courses in the whole of Europe. Expect it to rise further as it matures and settles in. Paired with nearby sister course Praia D'El Rey and you have two of the lists' most thrilling rounds."
Francisco Cadete, director of golf at Praia D'El Rey Marriott Golf & Beach Resort and West Cliffs Golf Links, also expressed the pride following the announcement: "It's everyone's aim at the resort to give all our golfers the best possible experience, and to have two courses inside Europe's top 40 gives us great pleasure. We knew West Cliffs was special when we were creating it but the response that it continues to attract has maybe surprised even us. It really is an amazing course and the great thing is that it's only going to get better as it develops and matures."
The first Dye golf course in Portugal, the 6,382m, par-72 layout – also ranked 17thin Golf World magazine's recent list of Europe's top 100 courses – was created across 200 hectares of natural landscape, rolling sand dunes and coastal vegetation, and offers sweeping views of the Atlantic Ocean from each hole. Complementing it is Praia D'El Rey's 18-hole championship course, designed by Cabell Robinson, and set amidst a combination of extensive pine forests, undulating dunes, and boasts spectacular views over the Atlantic and the Berlengas Islands.
The length and breadth of Portugal now boasts fabulous courses and facilities, and this latest accolade underlines once more the reality of a country blessed with truly international, top class golfing venues.