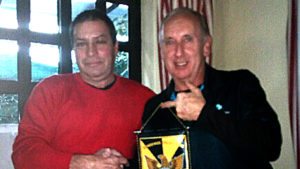 At a special lunch in Carvoeiro, Algarve, the Lagoa Bombeiros (Fire Service) received a fantastic cheque for €2777 from Silves Internacional Clube de Golfe (SICG). Outgoing club captain, Howard Ridgway, had nominated the local Bombeiros as the chosen charity for 2017, his year in office, at the Pestana, Silves-based club. Driven by Howard's initiative, generous members contributed over the golfing season to swell the total provided for what was widely acclaimed as a very worthwhile cause. In addition to various social events, the least popular (!) contribution was the one euro 'donation' from players with the misfortune of landing in the greenside bunker at the par-3, 14th hole – specially nominated by Howard.
At the presentation lunch, held at Carveiro's Vimar Restaurant, Howard was keen to console the few (or, more accurately, the many!) errant members who had regularly 'donated' from the bunker. With only the hint of a smile, he said: "At least players who had the misfortune of finding the bunker at the 14th hole had the consolation of knowing that someone would benefit from their aberration!" On a more serious note, Howard's presentation to the Bombeiros (he is pictured here on the right) stressed that he "chose the local Bombeiros as a worthwhile and deserving cause as it is a service relied on by so many in the community and that often struggles with a lack of resources."
While the lunch was greatly enjoyed and appreciated by club members and the grateful representative of the Bombeiros, the donation from SICG will of course provide more lasting benefit to the community and the brave members of the Bombeiros who provide such as an invaluable service.