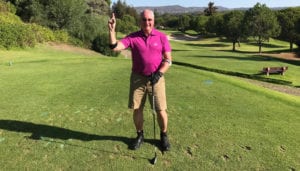 Following his first-ever hole-in-one, scored on the Algarve's beautiful Pinheiros Altos course, John Paton, from Dunblane, Scotland, has earned a fabulous trip to the 2020 Ryder Cup. The 62 year-old Scot (pictured) was on a golf trip with seven friends when he accepted the Million Dollar Hole in One (MDHIO) challenge, and achieved his first ever ace. The MDHIO's challenge offers a selection of golf-related prizes for making the green, including balls, gloves, and pitch-mark repairers. However, the reward for a hole-in-one at any of the 40 associated courses across Europe is a fabulous Ryder Cup trip and a chance to go home with a $1m jackpot!
After landing the dream ace, John explained how it was achieved at the 154-yard, 2ndhole: "We'd all tried the MDHIO challenge at Vale do Lobo earlier in the week, but I was the only one to go again at Pinheiros Altos. I thought I could do with a new glove or some more balls – I'd lost quite a few! It wasn't a particularly good shot, but it was straight, and landed about 20 metres short of the green, bounced two or three times and just rolled up. My friends were starting to get excited because we could see it all the way. It was like it was in slow motion, it was surreal. I was just hoping it would stay on the green, but it rolled straight up to the cup and in. It was marvellous! It's not the sort of thing that comes along very often, if ever." The Scot now eagerly anticipates his fantastic trip to Whistling Straits, Wisconsin, for the 2020 Ryder Cup, and the $1m shootout.
MDHIO has been running since 1990 in the USA, and since 2000 in Europe, and its popularity has steadily grown. More than 50,000 people try their luck every year on courses across Portugal, mainland Spain, Mallorca, and the UK, with nearly 60 golfers having already achieved an ace in Europe. More than double that number also achieved a hole-in-one, but missed out by not entering for the challenge. To find out more about MDHIO, including where it is staged, visit www.mdhio.net/golf-courses.