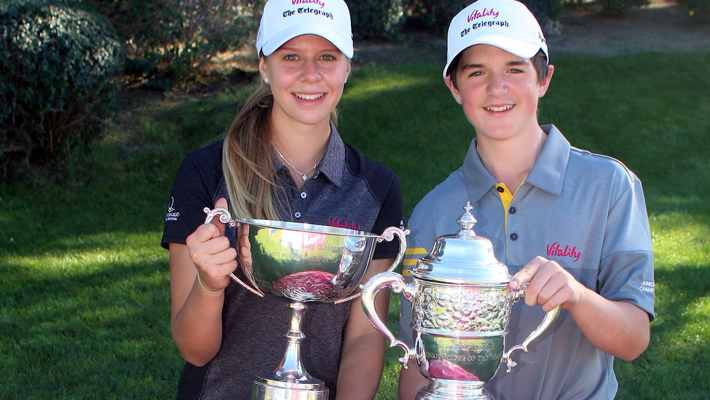 Max Hopkins, a 14-year-old from Bishop's Stortford, Hertfordshire and England Under-16 squad member, became the youngest boys' winner of the Vitality Junior Golf Championship since the 1985 inaugral competition. Roehampton Golf Club's 15-year-old Annabell Fuller was victorious with an emphatic 13-stroke victory in the girls' competition. A host of sparkling junior players were on show, and the future of golf looks is as bright as the sun-kissed Quinta do Lago North course where the event was staged.
Both main trophy winners (pictured) have three more years in the junior ranks. Annabell Fuller, competing for the second year in succession, returned a hugely impressive final round of 70 for the best girls' round of the week. Max Hopkins' memorable debut performance also reflected his dream of emulating previous winners like Justin Rose and becoming a future golfing star.
A delighted Hopkins afterwards revealed how managing his fluctuating emotions played a key role in securing victory: "I had a few nerves on the short putts but I wasn't nervous coming up the last as I knew the other scores." The achievement of never having more than two putts on any of the 54 – often difficult and always challenging – greens also contributed hugely to his triumph: "Two-putting takes a lot of shots off and that's the thing that has done it for me."
Other impressive perfomances included Alfie Fox, co-overnight leader with the eventual winner as the pair swapped one-shot leads to remain level after 10 holes of the final round. James Wilson was also in contention until the 6th where trouble in the trees scuppered his chances. However, the challenge presented by the North course was again illustrated on the 11th hole where a lost ball and devilish green resulted in a nine for Alfie Fox. Next, on the 12th, Hopkins found a menacing-looking pine cone nestled precariously behind his ball after a good drive. "That was definitely a nervy moment," Hopkins said. "If I had moved the ball, it would have changed things." Successfully keeping his nerve despite going out of bounds from the 18th tee was another significant dimension of the young Englishman's winning performance.
The girls' event was another memorable competition graced by a stunning performance from winner, Annabell Fuller. Lily May Humphreys, British Girls' Amateur champion, claimed second place for the second successive year as Fuller powered away from the field. Enjoying a seven-shot lead at the turn, Fuller decided "to go for all my shots and see how low I could go". She returned five birdies including a delicate chip in from just off the 17th green. Following her triumph, she revealed her future ambitions: "This is such an honour. There are so many who have won this and gone on to win big championships. One day I hope I can follow in their footsteps."
The Algarve once again staged a high quality golf event and the wonderful condition of Quinta do Lago's North course was roundly praised. There were also deserved accolades for the juniors whose overall standard of play and respectful, competitive conduct reflected all that is good about the great game of golf.