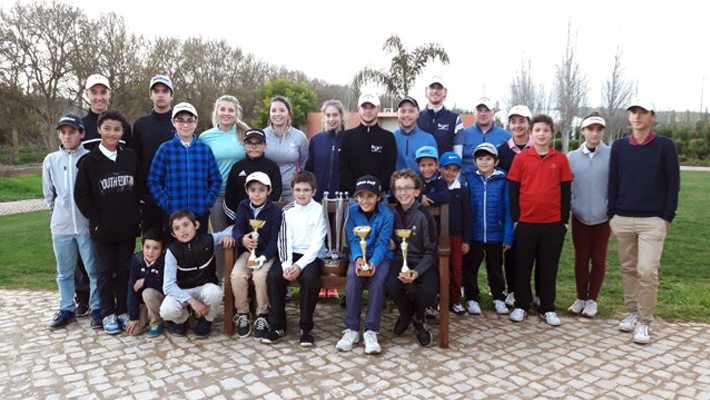 The Philia Cup is a new Pitch and Putt tournament that promotes competitive golf for juniors. The inaugural event was held recently at the Amendoeira Golf Resort, Silves, which boasts what is regarded by many as Portugal's finest pitch and putt layout.
Swiss expat Richard Amey has established the tournament to tackle the lack of competitive events for young golfers in Portugal. Richard aims to make the competition a monthly event and is clear about how it can benefit juniors in the Algarve: "Young golfers do not have many events in which they can be competitive. Competitiveness is very important, and young golfers need to start being competitive at early ages. The plan is to hold the tournament every month at Amendoeira. The Philia Cup could be just the event that young players need as big greens can be too overwhelming for children."
Pitch and Putt provides the kind of of small-scale golf course more suited to young players and can encourage them to participate in a competitive, but fun, environment and is consistent with Amey's vision for supporting juniors. Following the success of the first Philia Cup event staged in Vilamoura at the end of last year Richard decided to establish a monthly event at Amendoeira open to any young golfer. The 2017 competition between the 10 best Under-12 players of Andalucia and their Portuguese counterpart was held at Vilamoura.
A total of 26 youngsters were entered for the new 'open' competition at Amendoeira and competitors with delighted trophy winners and event organisers are pictured above. The winners across three different handicap categories (high (H), medium (M) and low (L)) were João Castro (H), João Crasi (M) and Alexander Amey (L). The entry of €10 covered a nominal green fee although future sponsorship could reduce (or even eliminate!) any costs.
While already busy planning for the February competition, Richard was still keen to acknowledge previous support: "I would like to thank Decathlon, which provides us with a lot of material, as well as Golf Shack in Alcantarilha and Amendoeira Golf Resort for hosting the event."
Richard Amey's commitment and enthusiasm indicates that the Philia Cup is destined to become a welcome and important feature for junior golfers in the Algarve. For more information on entering and providing sponsorship, please contact Richard Amey on (00 351) 962081919 or at philiacup@gmail.com