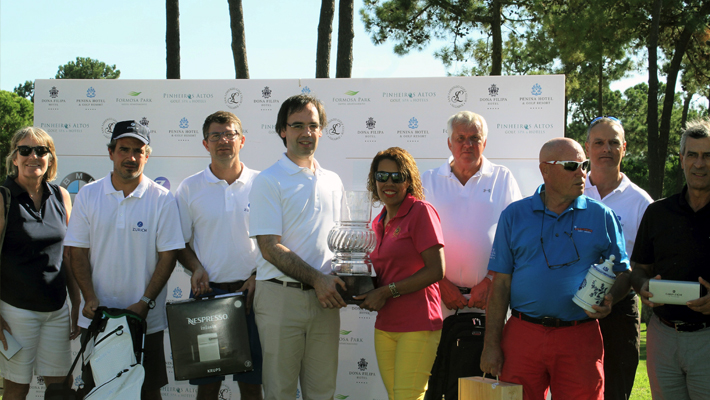 The international hotel group, JJW Hotels & Resorts recently staged its first JJW Cup at the Algarve's prestigious San Lorenzo and Pinheiros Altos golf courses. The event was accurately described as a "unique golf tournament held in a luxurious and laid-back environment" and the inaugural competition's success was followed by JJW's announcement that the next tournament is scheduled for 2018 on October 27th and 28th in what is sure to be a keenly anticipated occasion.
The first day of action commenced at the fabulous San Lorenzo course followed by an informal lunch in clubhouse. There was something to satisfy every taste both on and off the course including the opportunity to two test drive two of BMW's latest electric models – the 225xe Hybrid and i3 Electric. Later, the Hotel Dona Filipa provided the location for a special gin masterclass and cooking demonstration led by 'mixologist' João Branco and chef Luís Batalha, respectively. Opening day festivities finally came to an end with a cocktail party and lavish dinner in the Dona Filipa's Kamal restaurant.
After such an array of varied and interesting initial activities the stage was set for a memorable finale the following day at Pinheiros Altos. The field duly produced some very good golf with many impressive scores returned and some of the proud prize winners are pictured here. José Valente won the best gross score prize while Rosângela Gois claimed the tournament's best net award. The event overall was a hailed as a fantastic success as players savoured two superb courses in brilliant autumn sunshine.
Rúben Paula, chief operating officer at JJW in Portugal, thanked the event's partners and stressed that it could not have been such a terrific success without them. He underlined the group's clear objective of making the JJW Cup a "staple golf event" in Portugal. Sandra Matos, the group's Algarve marketing chief, also added that the tournament is extremely important in terms of promoting the JJW group's Algarve units, especially, it was stressed, "in the national market".
The JJW Cup was supported by Zurich, BMW, Caran d'Ache, Piper Heidsieck, Reynolds wines and Nespresso. JJW Hotels & Resorts is an international company which owns and manages several luxury properties in Austria, Egypt, France, the UK and Portugal. The group's prestigious management portfolio in Portugal includes the Penina Hotel & Golf Resort, Dona Filipa Hotel, Formosa Park Hotel, San Lorenzo Golf Course and Pinheiros Altos Golf Course. With JJW making such an impressive stamp on the Algarve, its positive contribution to golf in the region cannot be understated and as reflected in the memorable success of the inaugural JJW Cup competition.